I'm not alone when I'm with my music but the thing is that I get very bored by listening same playlist again and again, and when i find some new song i listen it till the saturation point then look out for new songs my favorite site for downloading free songs is BeeMp3, but again the thing is finding kind of song which you like, so here some site where you can look up for finding your kind of songs.
1) Musicovery – It is an interactive webRadio. you can find and listen songs based on how you feel like wether you are feeling energetic, calm or you are in love or got heart broken, you can browse through all kind music. and if you find your type of songs then you can also buy it.
you can choose and explore music by mood, style, genre, decade and lots more.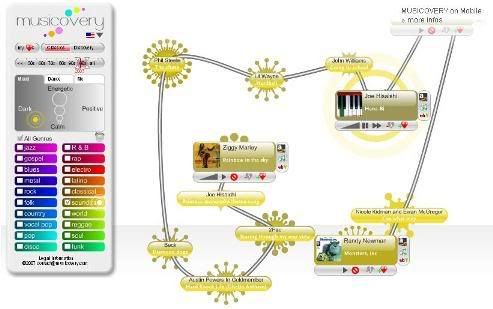 2) iJigg – It is a new, easy on the eyes music site introduced to me by my dear friend with Love Hurts song. It has excellent sound quality and you can also download songs but only which are free like 7 months ago I downloaded this song but now it's no longer free to download.
it's community driven based site you can upload, download, make play list and jigg it your favorite songs.
3) Pandora –"It is a music discovery service designed to help you enjoy music you already know, and to help you discover new music you'll love.
It's powered by the most comprehensive analysis of music ever undertaken, the Music Genome Project: a crazy project started back in early 2000 to capture the complex musical DNA of songs using a large team of highly-trained musicians."
what you to do is to just type favorite songs or artists and they'll launch a streaming station to explore that part of the musical universe.
4) Last.fm – It is a music recommendation service"an online radio station for sharing and streaming music. Every user builds his/her own online record collection and taste profile, and share it"
you'll get flash player in addition to the desktop client, free MP3s available from independent artists and affiliate sales of recommended concert tickets wow.
5) iLike – You can discover new music with friends, can download free songs and lot more.
yes and lot more..

and yes the list is never ending so i want to end this post here